Mar. 2011 (updated Sept. 2018)

Big Booty Time
(by Michael Tapir)
(Don't run videos simultaneously to avoid sound interference!)

Some booty freaks really get mad of gigantic behinds and spanking them would be their utmost desire. I must admit that I generally prefer young girls with firm and shapely buttocks. But whenever proportions are correct and the mounds are solid muscles instead of ugly greasy landscapes, well round and covered by smooth and flawless skin, this is of course sexy in a very high degree. As these quality booties are often owned by ebonies or latinas, they deserve a report at this place.

Recently I came upon some video samples from Girlspanksgirl.com with two "big" black girls being spanked by an experienced black lady, whom we already know from videos about which I reported earlier. I did not watch the complete video, therefore my comment refers only to what I saw. The booties of the two culprits are very attractive, as well as in tight lacey knickers where we can well figure out the sexy cleft between the cheeks (great sight for panty freaks!) as also later when the spanking is administered on bare bottoms. Unfortunately it is only an OTK handspanking so far. In my opinion those large booties should be properly treated by an adequate tool. I think in this case a belt would do best work. And then it had better to be in a kneeling position instead of OTK to provide a good distance for a long wicked belt hitting down forcefully.

From the preview pics at Girlspanksgirl we also see a hairbrush in action, again OTK and somewhat small for these booties. A bathbrush with a long handle would be a better choice!

The video is available at
Girlspanksgirl.com
.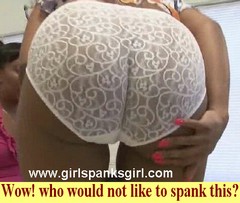 There are many more videos under the title of "Panties down" and you may get an impression from the following two sample clips. Members may watch fulltime videos in the Video Collection Lana M. (Link at bottom).


Friends of big black booty spankings will enjoy watching these severe FF-spanking punishments.

But there is still more available on this subject. Also many amateur spankers share this passion. There is a rich choice in the web of big black booties getting spanked with the belt, paddle or terrible bathing brushs: everything most adequate for those gorgeous behinds. And never disrespect a good handspanking, given in a sharp bent over position with the arse high up in the air as you may watch in the samples below. The swats are not delivered on top of the cheeks, but from the lower globes upward, which will sting like hell and make those cheeks bounce and wobble seductively. That's what I like!


I uploaded the videos from my archives (Original sources public tubes).
I also recommend this
Free Album
where I have assembled a collection of 36 stills from videos shot by different amateur spankers.

Links for Members:

Picture Galerie Pantyspank

Picture Galerie Big Booties spanked

Video Collection Lana M.

Links to free related Reports:

Black, Bootiful and Slapped
(with many additional Links)

Booty Shaking

Be one step ahead! Members of oldtapir will get more information, pictures and videos!