Sept. 2019

Review Ebony Actress Ana Foxxx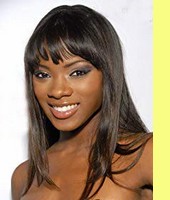 Ana Foxx was born on October 29, 1988 in Rialto, California. Her father was a minister who also served in the U.S. Air Force. A nerd during her high school days, Ana originally wanted to be a clown or a ballerina. Foxx lost her virginity at age 17. After being discovered in a grocery store, Ana worked as a runway model prior to her involvement in the adult entertainment industry. Foxx did her first hardcore shoot for the adult website Reality Kings. Among the notable companies Ana has appeared in X-rated features for Adam & Eve, Evil Angel, Jules Jordan Video, and Pure Play Media. She was nominated for an AVN Award for Best New Starlet in 2013.

(Text in Italic © www.IMDb.com)

She also appears under various pseudos like Anna Fox, Ana Fox, Ana Foxx but mainly as Ana Foxxx, and a search at Google displays plenty of results. At
IMDb.com
there is a long list of her filmography from her startup in 2012 until now. These are mainly adult content videos or tv-series. She can truly be apostrophied as "Porn Star" and she covers the whole spectre of porn from self masterbating over lesbian actions and mixed gender fuckings or gangbang up to extreme hardcore BDSM. Additionally to the websites mentioned above she did many videos at Kink.com network and their numerous labels. Ana is a very beautiful and shapely young ebony lady and it is difficult to understand why she turned to the hardcore adult porn scene. Maybe she really found satisfaction of high sexual desires or she sold her body just out of greed for money.

Unlike some other famous porn models she did not do explicit spanking videos or I did not get to know about them. Among those many lesbian and intercourse vids which I checked, I did not detect any spanking action and even no stimulating slap on her gorgeous bottom which you may admire in the selected following pictures. Btw, there are tons of photos and numerous galleries to be found in the web.

As she does not act as spanking model, I did not create a separate video site as usual, but added some typical video examples accompanied with comments within this review. The videos can only be watched by registered
Members
. Click on preview pictures to start them.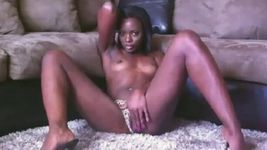 # 1. Ana Webcam Presentation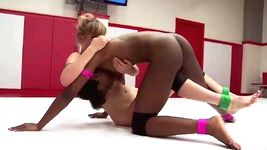 # 2. Catfight Ultimate Surrender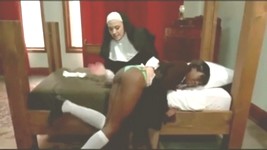 # 3. Masterbating Nun punished
Video # 1 is an introduction of Ana. You may watch her talking and presenting herself on webcam. This allows thorough inspection of her sexy body ending up with masterbating. In videoclip # 2 we see her catfighting with a white girl. We can admire her well trained and sportive body and her fast reactions. It was the only video of that kind which I found in the web and I clipped it to show the most impressive scenes. This video was made by Kink.com, perhaps there may be some more. Video # 3 is unbranded and of unknown origin. It seems to be from an early period and is not of best quality. I found the original 52-minutes long video titled "Interracial Nun BDSM" on Pornhub.com. But I only show about 14 minutes where newbie nun Ana is punished for masterbating. There is a very nice OTK-Spanking by a sister nun and also pussy slapping and later pussy punishment with that vibrator which Ana had been using herself as she was caught. In later part this video turns to heavy BDSM. Restrained on the bed hot wax is dripped on her naked body and in a sharp bent-over position she gets fucked and tortured. Nuns in relation with sexual abuse and punishment is quite often to be found and may have it's friends, but I think it's far from reality.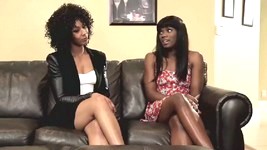 # 4. Lesbians Misty Stone and Ana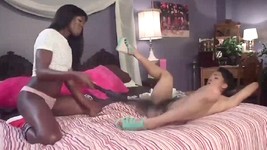 # 5. Lesbian Study Break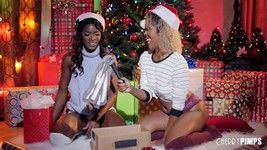 # 6. Lesbian Action on Xmas
I will not report about those many porn videos she did fucking with male partners because this is not the subject of this site. If intercourse is accompanied by some spicy slaps on a sassy butt, I will appreciate it very much, but scenes like that are rare and with Ana I did not detect any though I must admit that I was not interested to make a special search. For me it is boring to watch people having normal sex. There are some more interesting and worth watching lovely details in tender lesbian action. Video # 4 shows the introduction of stepdaughter Ana to lesbian love by very experienced stepmother Misty Stone, and at the end of this video Ana receives fianlly a good slap on her sexy ass. In video # 5 Ana becomes more active and in the beginning she is flogging the hot pussy of her partner coed. Video # 6 is a lovely one. We join Ana and Lotus Lain unpacking presents on Xmas. And Lotus presents a soft flogger and the girls immediately try it out and have a lot of fun with this toy and the following lesbian caressing. I like this video very much and I suppose spankers will like it too.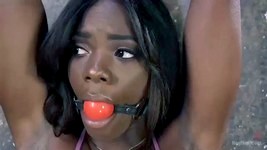 # 7. Hogtied and beaten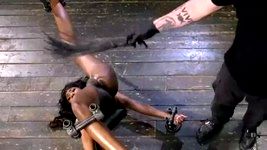 # 8. Pussy Torture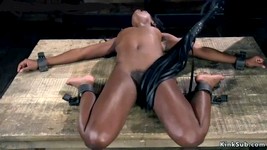 # 9. Restrained and Pussy Whipped
As I initially already mentioned, Ana did plenty of hardcore and BDSM-vids at the Kink Network. The last three videoclips are from "Hogtied", "KinkExtreme" and "KinkSub". It is quite unbelievable how much painful torture a female can bear. It is hard to imagine that a pretty young woman voluntarily submits to such a rough treatment or even enjoys it! Perhaps some scenes look more severe as they are in reality. It is amazing that sadistic breast and pussy whipping, rough fucking with vibrators or dildos and brutal asshole stretching will not leave remaining injuries. On the other hand we will appreciate when a spoiled and wicked lady is severely punished. Porn, spanking and punishment do belong together, and no matter how you individually think about certain things, there are always followers.

© 2019, Michael oldtapir
Be one step ahead! Supporting Members of oldtapir will get more information, pictures and videos!


(all picture and video examples are subject to copyright of their different producers although they were taken from free sources in the web like pornhub.com, xvideos.com, youtube.com and others)