April 2016

Editor's Letter, Latest Modifications


Hi Friends, Visitors and Supporters of this Site!

As anonimous and untrue allegations and attacks against my person and this site from german visitors
(first reported in May 2014)
still continued more ore less vigorously and sometimes close to criminal actions, I made some modifications as a matter of self defence.

The access to this site via "index page" has been blocked for all visitors from Germany. As this blockade never may be perfect, some sites became additionally password protected. Other basic sites are still available but in a version with smaller content (e.g. pages
"Pictures"
and
"Updates"
) but with password they can be watched in their complete original version.

During the last months I first had tried to refute these untrue allegations by contacting the aggressors via email but this was completely in vain. You cannot discuss seriously with mad people who are pursuing the destruction of a project or, even worse, the real person behind it.

This futile struggle has taken plenty of time and energy from me, and sometimes I wondered if it was worth it to take permanent attacks because of running this private and informative site and sharing it with interested and equal mindeds just for fun. On the other hand I had found many approving friends and followers during all those years, and this encouraged me not to surrender, which might of course have been the easiest way to get out of everything. But to give in would have meant to submit to impertinant lies, defamations and accusations.

During ten years of having been online I never had thought that such an incidental lifestyle thing as spanking would attract a wicked mob who set themselves up as amateur lawmen because of own frustration and self constructed enmity. I admit that in the first days of publication I might have made some mistakes in observing legally correct rules. This makes the difference between me as amateur and a professional webmaster and should not be blamed, though the agressors accuse me for commerciality of my homepage instead of private status.

I am really sorry that due to this ugly fight there was little time for me to publish new articles with spanking relevance though I still have many themes in mind. I am never discouraged but simply sad and at my advanced age I will not withdraw but according to personal condition I will take shorter and will not undergo an obligation of regular updating as I did in the past. The future will show if there is nevertheless a stabile basis for this site to go on.

History of Ten Years Oldtapir

About the change of the millenium I started to contribute some of my numerous own pics to a very famous french spanking site which no longer exists today (perhaps died over night out of similar reasons which I have to face right now?). The media "internet" was fascinating me very much and I wanted to participate not only in consuming but also in arranging and doing something on my own. So I combined the two passions "spanking" and "webworking" and started my own homepage in 2005 at Geocities@yahoo which has been abandoned now but can be compared with the "Blogs" of today. I learned about html-writng and java script and created and registered "oldtapir.com" which pushed up the number of worldwide visitors. The pictures below show the first and some early appearances of oltapir's start pages (perhaps some of you will remember):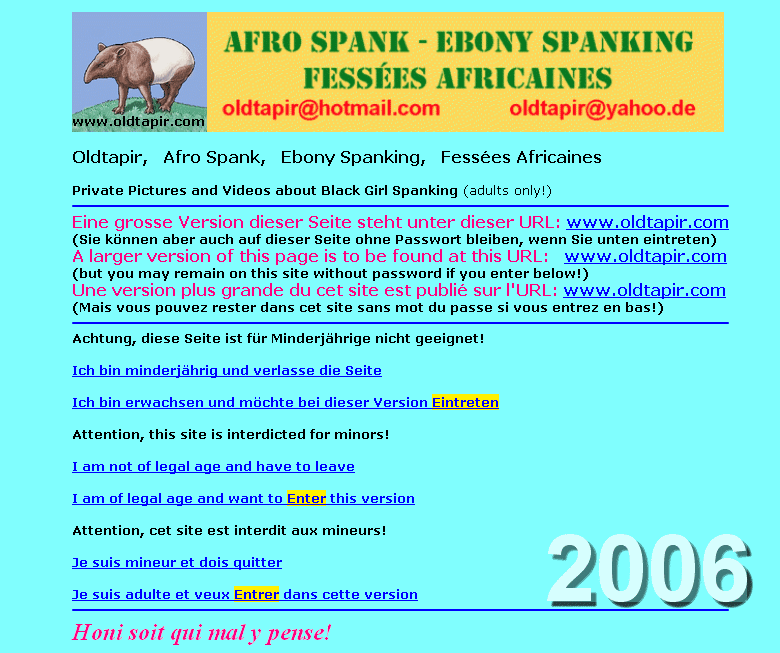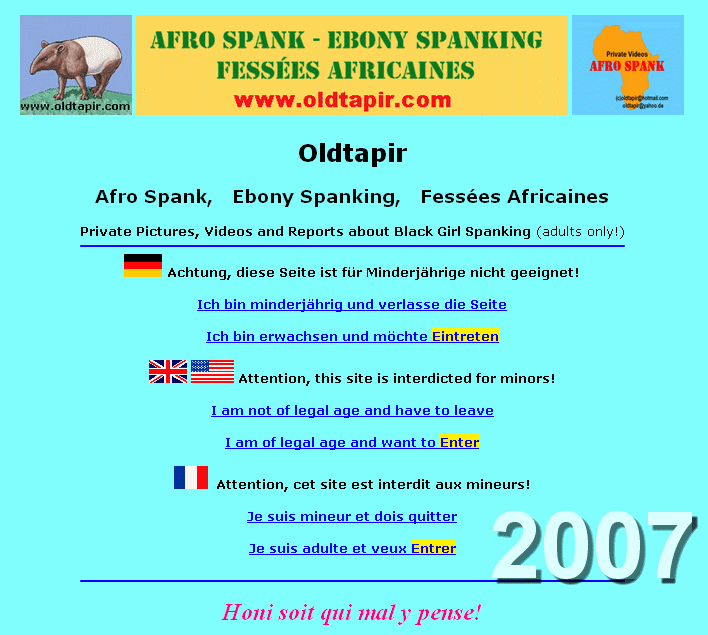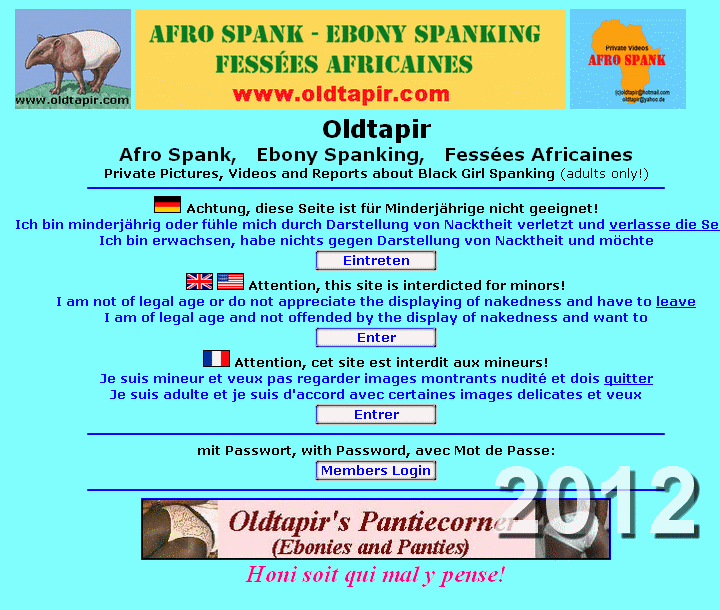 A period of ten years is an eternity in the rapid and breathtaking development of internet and its facilities. Though I made several changes and adjustments I sometimes think my site to be kind of dinosaurus. Please don't blame me if you feel so too and always remember that I did everything in autodidactive manner without professional help. Therefore I will never claim for professionality but always keep its amateurlike selfmade habit. And the ancient saying "hony soit qui mal y pense" (free of copyright!) which I originally inserted at the bottom of the start pages has proved more than true in multiple senses.