Oct.2017
(updated Feb.2019)

Ebony Nuna S. (Part 2)

On Twitter and Tumblr I found some more pictures shot at spanking sessions with Nuna and Paul Kennedy from Northernspanking but unfortunately I never found videos where they could have been from. Maybe those videos have never been edited, have been withdrawn or were strictly private. I got this idea because Northernspanking is offering a service to shoot custom videos on request, regarding special wishes concerning plots, outfits, actors etc. Also Nuna herself is offering her service for private spanking sessions. It is all just a question of money! Maybe these videos are only held back for later release because I am shure that they would be well appreciated by fans of Nuna like me. In any case the pics look very promising and yummy
New! Just recently I found some more pictures issued by Northernspanking from this so called "first Spanking of Nuna" which I arranged in a new seperate Picture Gallery (P) for members.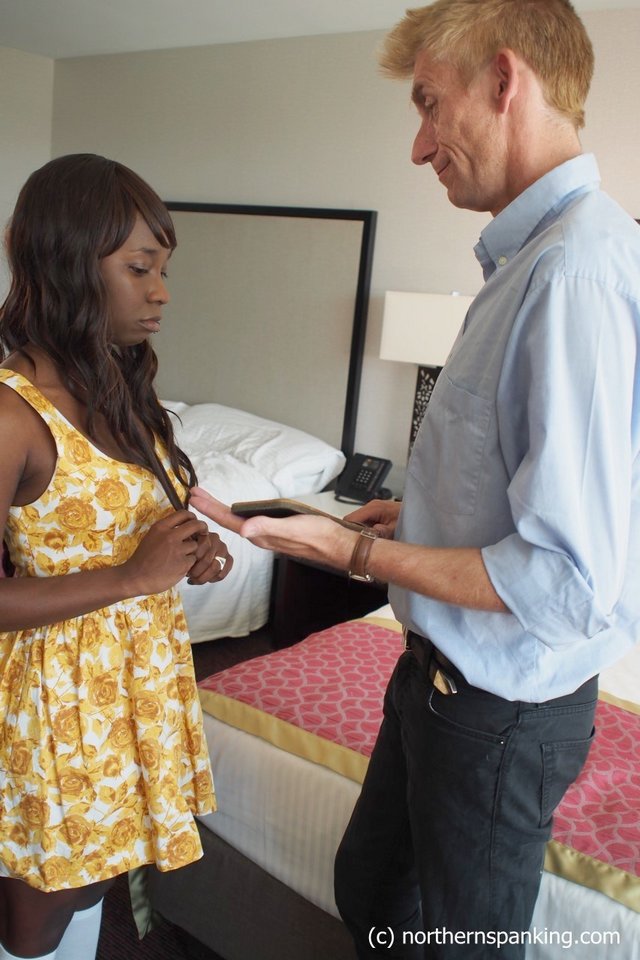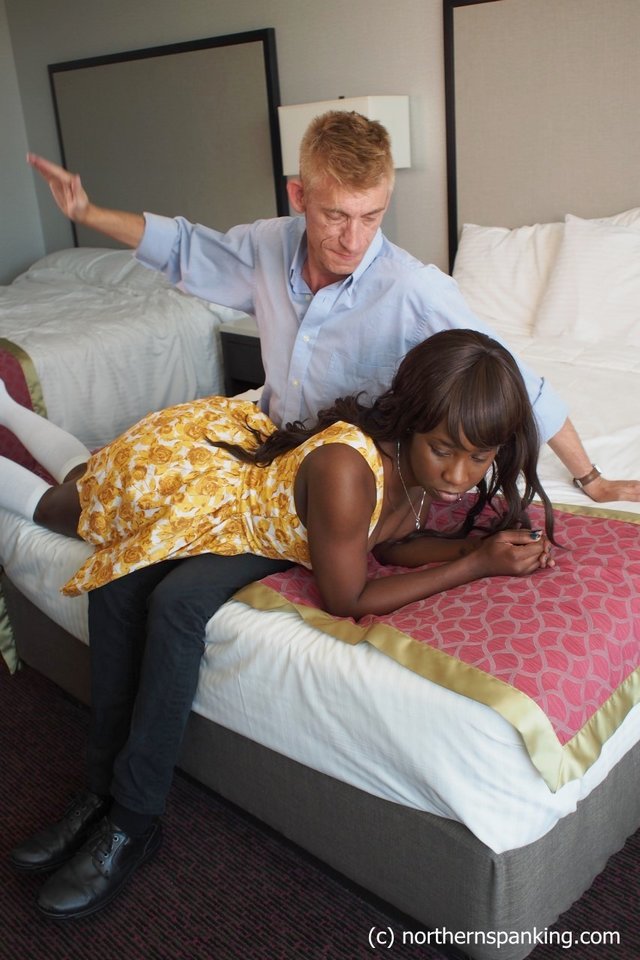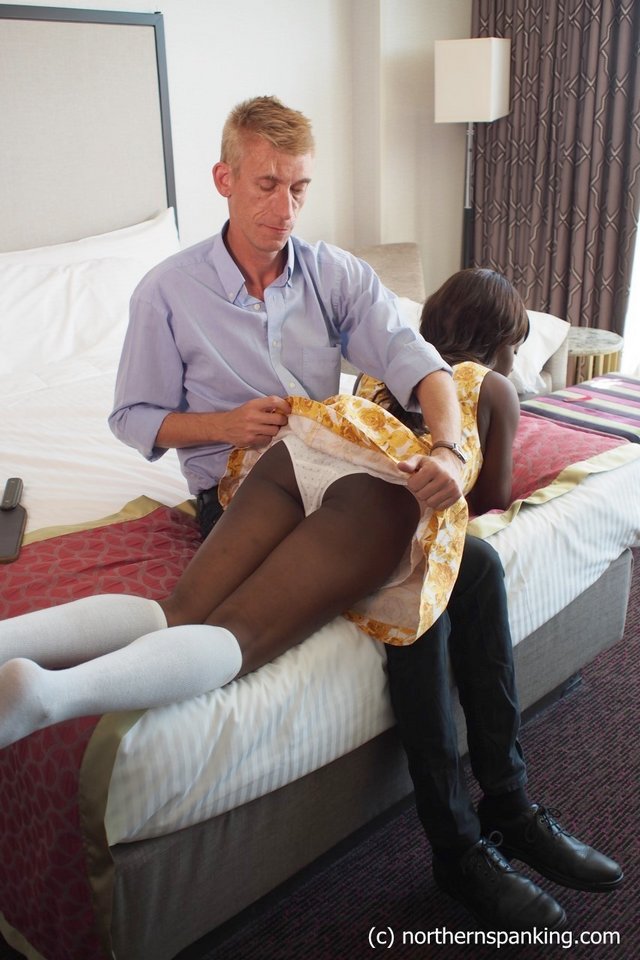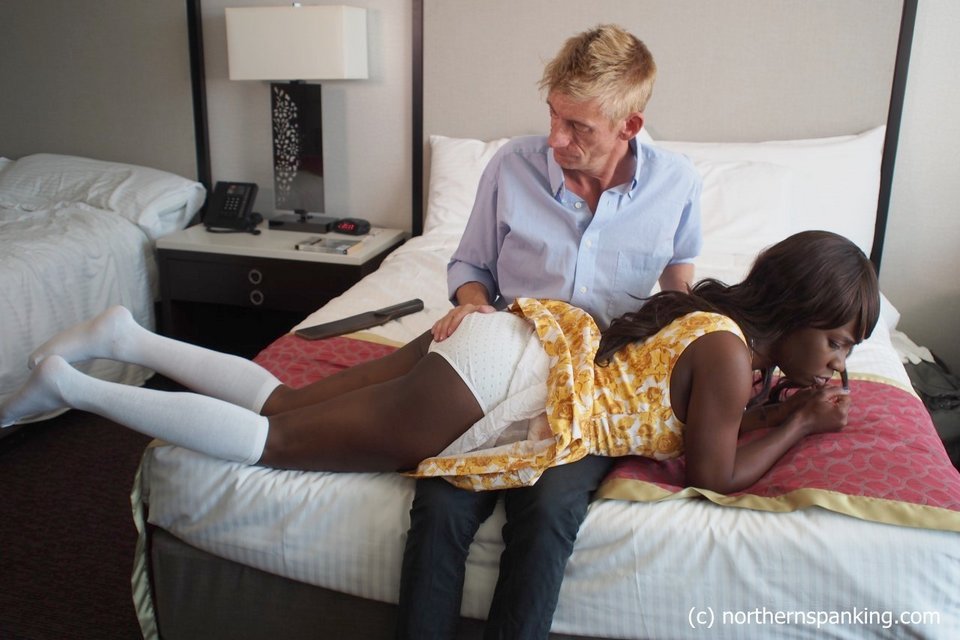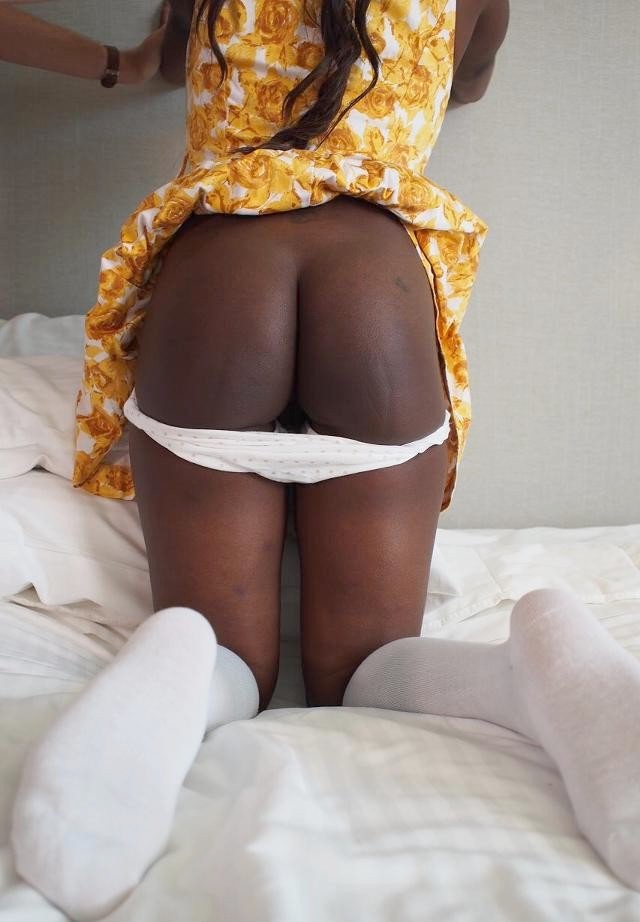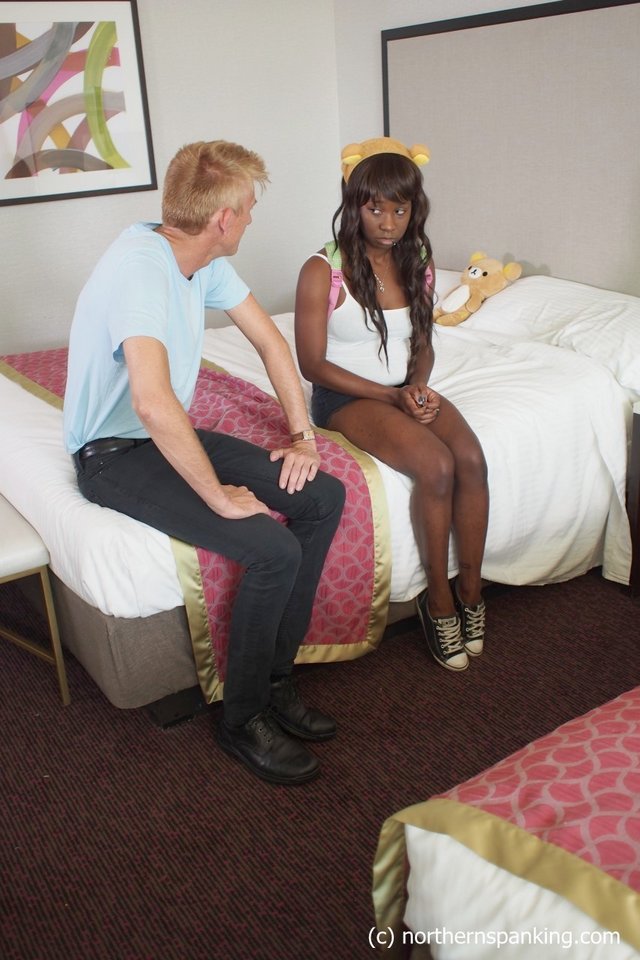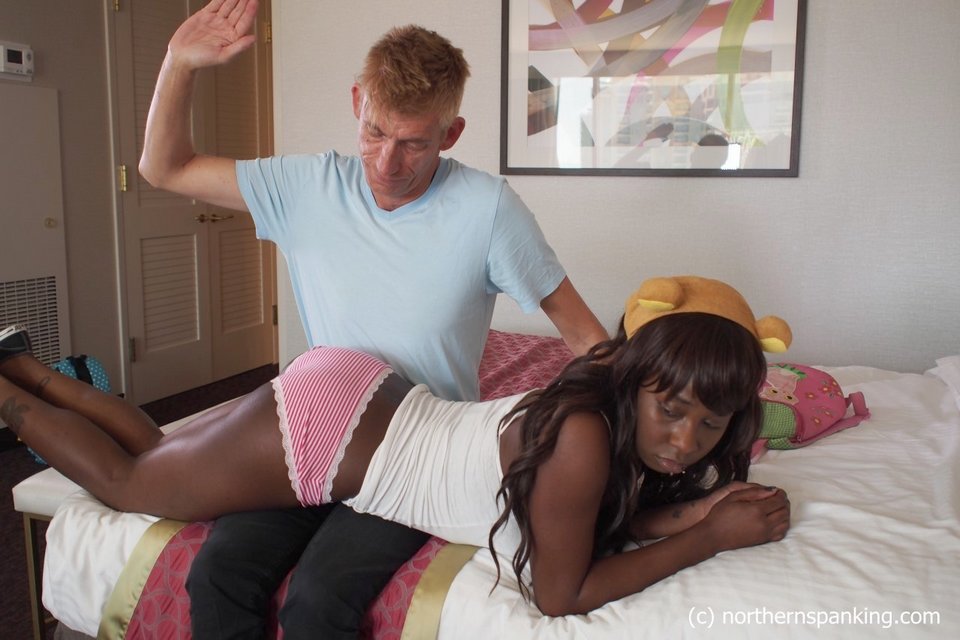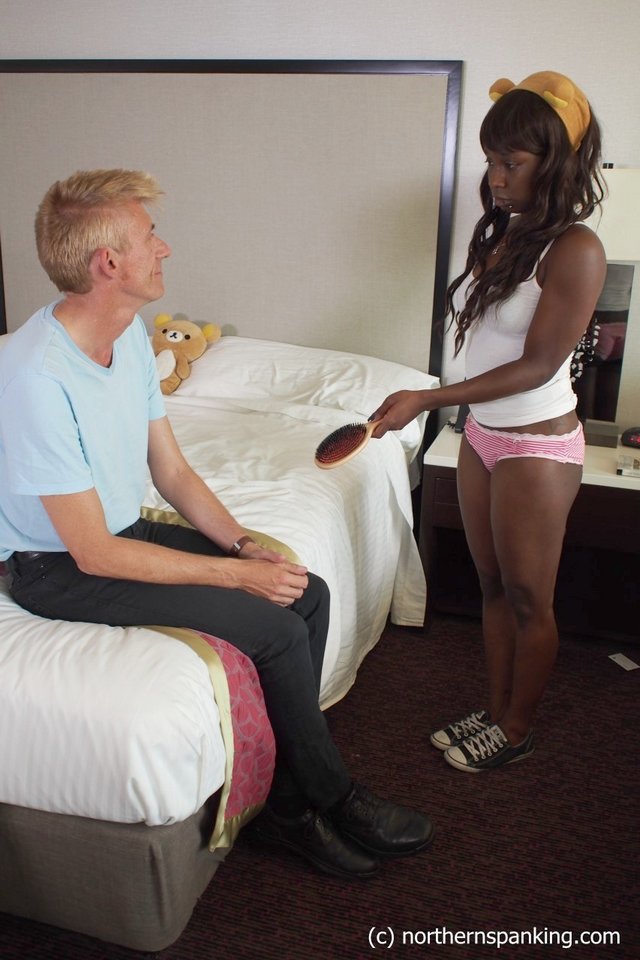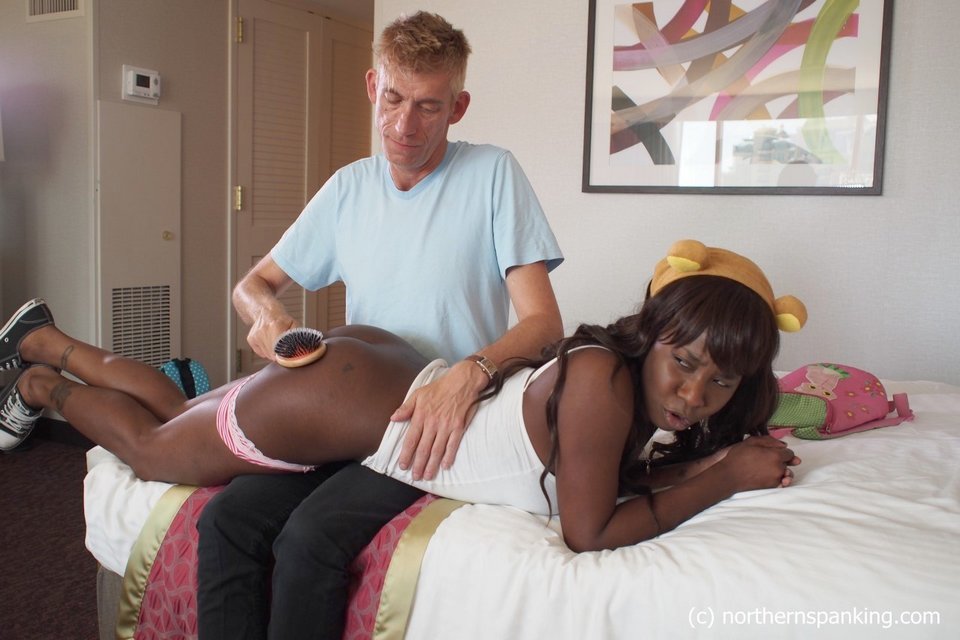 Nuna has also been acting at Realspankings. Currently, there are ten videos of different length, which act from her introduction and transformation into a college girl and several later punishments by the Dean for bad discipline. These spankings are very hard and she tastes implements like paddle, strap, tawse and ruler. They are administered in the classic way of bending forward, legs straight and apart and panties down. Once again we can admire Nuna's beautiful round and firm ass on target and her high tolerance of taking these high quality spankings. Watch a choice of anigifs from different videos of that series: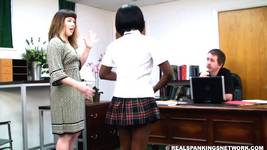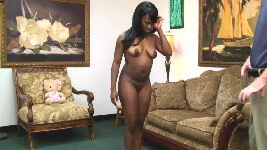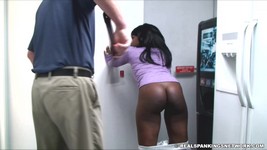 I recommend to read this illustrated chat with Nuna about her work in 2017 at Realspankings on
Spankingwishes.com
. In this interview Nuna said she did six videos there, whereas I reported about ten. Some videos are splitted into parts from one session; so both numbers are correct. Realspankings is selling its videos on its own homepage. Membership is required. Videos from the Northernspanking Group are available as pay per view (download) at
Clips4sale.com
. As they are offering more than thousand videos I advise you to search for 'Nuna Starks'.

But not every advice is perfect. The search for 'Nuna' at Clips4sale did not display another great video by a different producer who has no homepage but only a studio at Clips4sale called
'Worst Behaviour Productions'
. I came upon this studio by accident via
Spankingtube
when I was sneaking around there. There were several sample clips with a special spanking treatment what they called 'Penalty Swats', and one of those was featuring Nuna.
Naughty employee Nuna has been slacking at work and it's time to teach her a lesson. She receives a hard paddling over her skirt, panties and bare bottom by her boss. Finally she receives 20 Penalty Swats on her bare butthole.
This brief plot description explains already the definition of their so called penalty swats: swats on the bare butthole.

It is well-known that the high concentration of nerves around the anus makes this area very sensitive. Embedded between the buttcheeks it is protected in a natural way against severe blows during spanking. Therefore the spankee has to assume a sharp bent over position on all fours, and the cheeks, especially of female bubble butts, have to be stretched apart, to make it accessible. For the spankee this is additionally very humiliating and embarrassing because the most intimate and vulnerable privat parts are at full sight and completely at the mercy of the spanker. The swats do not need to be administered with great force to achieve a strong effect. In this case they are delivered by the hand, but also implements like narrow strap, thin stick, ruler or crop may be used to increase pain.

Nuna is very cooperative and accepts this awful and unique punishment in a way which makes us shiver. Among others the producers write that Nuna is spanked over panties, but unforunately this is only partly true because initially she is spanked over her nice dress and we get a glimpse of her panty covered crotch when her flimsy robe gets whirled up with every blow. Too soon she pulls down her tight sexy lace panties to present her bare bottom for the following stingers. The final twenty penalty swats are an absolute highlight. Unfortunately the somewhat restless movement of the handheld camera disturbs a little; ---maybe the cameraman (or woman?) is shivering too with excitement.


Congratulation to Nuna and her filmmakers to document and share these exciting and intimate moments with us! I would vote five stars for all of them!

You will find more Reports, Videos and Picture Galleries about Nuna in this
Linkpage Nuna S.


Be one step ahead! Members of oldtapir will get more information, pictures and videos!

(Sources of pictures, videoclips and text in italic: free promoting material from mentioned websites and shops, some are modified)