Feb. 2022

African Webcam Spanking
Advice: If you are using Firefox and click on a video preview picture, this symbol appears within it on the right side:

(PiP). Clicking on it will open a larger window in which you can also start and watch the video. Videos should not be started simultaneously to avoid sound interference!

It is well known that especially in Africa big butts are very much appreciated. As a result of genetic characteristics, women tend to get large and round bottoms. African men like these big butts, are sexually stimulated regarding them and would also like to feel them up. A beautiful and well-proportioned butt is also a worldwide estimated sex symbol and there exist plenty of reports about this subject (Links on bottom of site).

Of course, the spanking fan will immediately imagine in his head cinema to spank such an outstanding bottom. Others may develop different fantasies, but in any case, buttocks of that kind are an enormous eye-catcher. Regard the following two video clips from Africa. Clip 1 shows a kind of beauty contest with selection of the most beautiful bottom and in clip 2 a comedy series from Uganda shows thick and thin together in a funny dance:


In many dances, which are often perceived as obscene, the butt is of great importance. Because of different local origin there are several styles, but they are very similar in their erotic emphasis. Examples can be found in the list of links at the bottom of this page. Very common is also "Ass Clapping" (Clip 3) and "Twerking" (Clip 4). Both are mostly done to rap music and often shown by amateurs, and twerking is also an element appearing in the Mapouka dance. In clip 3 it can be seen that except Afro ladies, there are also others capable of doing "ace clapping" which have corresponding buttocks and are able to vibrate their butt cheeks. It belongs to perfect "clapping", - according to the name -, that there is created plenty of clapping noise, quite similar if these butts were spanked. "Twerking" is also a dance wiith erotic body movements especially focussing on the butt to funky music. A good description together with the origin of the word can be found at
Wikipedia
.


Even if a spanking lover would like to spank such buttocks, but has no opportunity to do so for real, it is an exciting experience to watch it. Today there are many professional and handsome Ebony models who let us take part of spankings in their videos. However, apart from the models, these works nearly almost correspond to the usual proceedings of all commercial spanking videos. Because today the use of smartphones and the internet is possible almost everywhere, even amateurs have the tool to record such spectacular multimedia events in best quality and to spread them worldwide. With amateurs there are not only new and fresh performers on stage, but sometimes these people are also bringing along new and interesting ideas.

After this long introduction, I now turn to the connection between the title and actual reason for this article. On Spankingtube I found a video where an African girl group is doing spanking in front of a webcam. This alone has already been a new Idea. Also new was the spanking in "drum roll style". To me it was clear that there could be more of this session than just shown in this short video, and a few weeks later I found by accident on a special video portal two stored files (runtime over an hour each!) from that spanking session originally released as webcam stream, from which this video on Spankingtube was taken.

Actually, I don't like videos so much, where many models participate, who are beaten up one by one. Here you can find a total of five, of which only three are involved in the spanking action. Of course, there is a lot of blah-blah partly in English mixed with a language unknown to me, and on the monitor there is another person verbally participating who is addressed by the actors in front of the camera with "Baby". Disturbing is the occasional appearing ringing sound, with which the invisible "Baby" apparently interferes and signals encouragement or approval. No other names are mentioned, but the three girls are easy to distinguish from the progressing actions. All have a super-bottom and probably the oldest owns this typical African "Bubble Butt". At the beginning, this lady spanks a younger lady (wearing a red and white striped bikini bra), who later becomes the main spanker. She skilfully slaps this huge butt without taking care of her hands and almost does not speak during acting. There are several spanking positions: standing, bent forward, kneeling and over the knee.

The probably youngest stands out by a lot of loud talking because when not involved into a spanking she is sitting close to the monitor and camera, and also does a lot of screaming when it's her turn to be spanked. Her butt is very well developed, also shows a tendency to a later "bubble butt" and can take a traditional butt beating very well. Later, she is spanked together with the older one, and there is also a narrow leather belt used. Although she wriggles a lot, the spanking lady manages very skilfully to bring down the strokes precisely to the target. The threshing is always delivered bare bottom, the ladies do not mind or are ashamed to perform naked. That's just the way it is in Africa.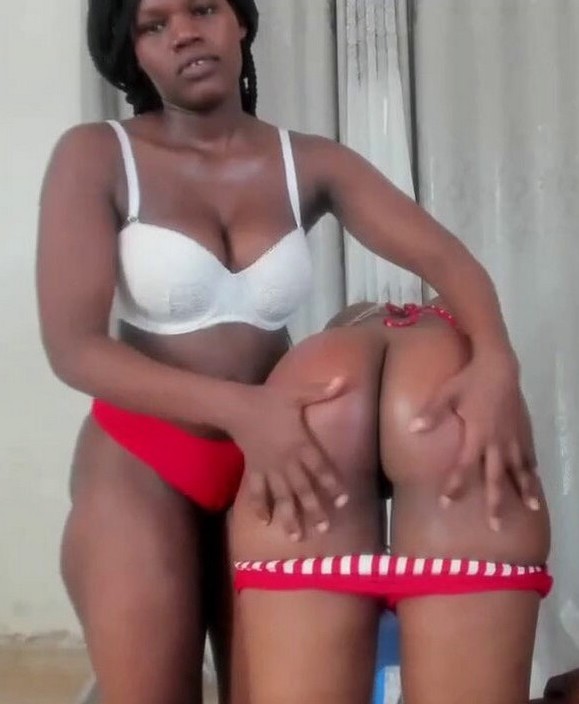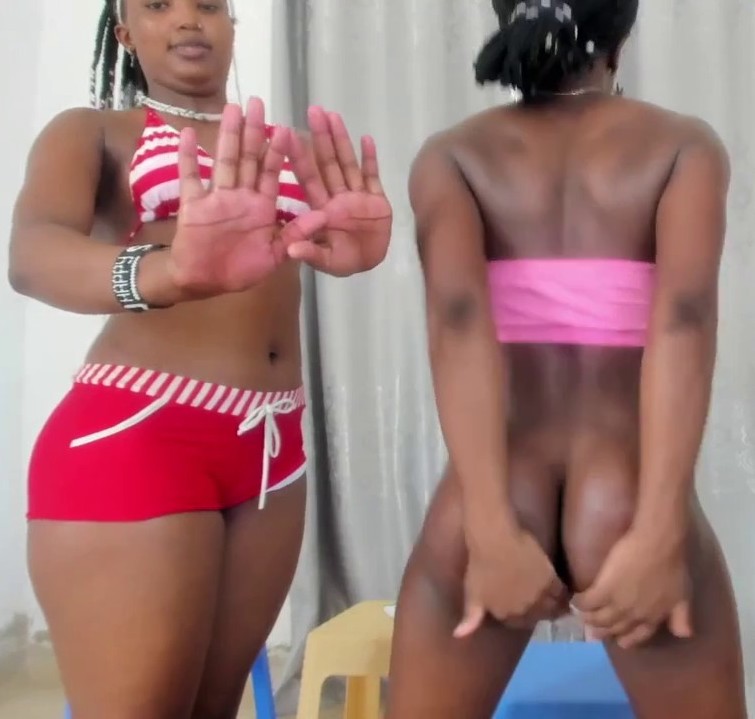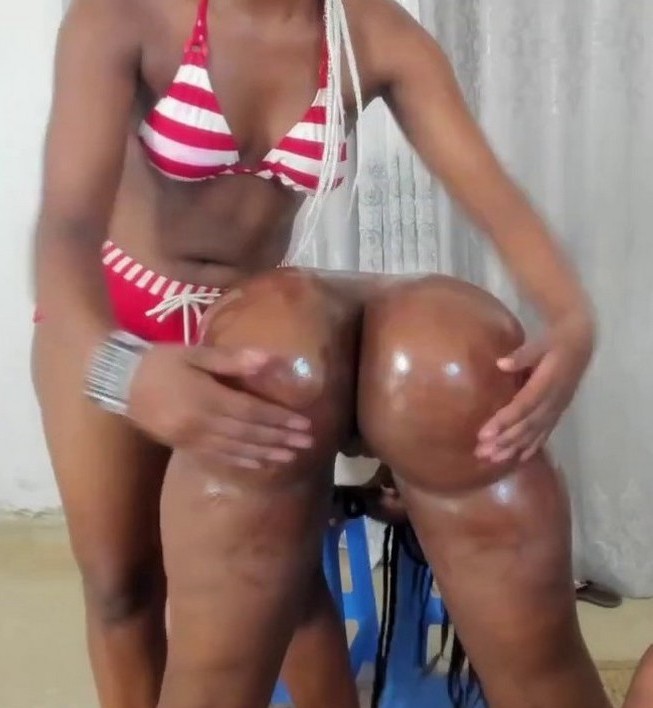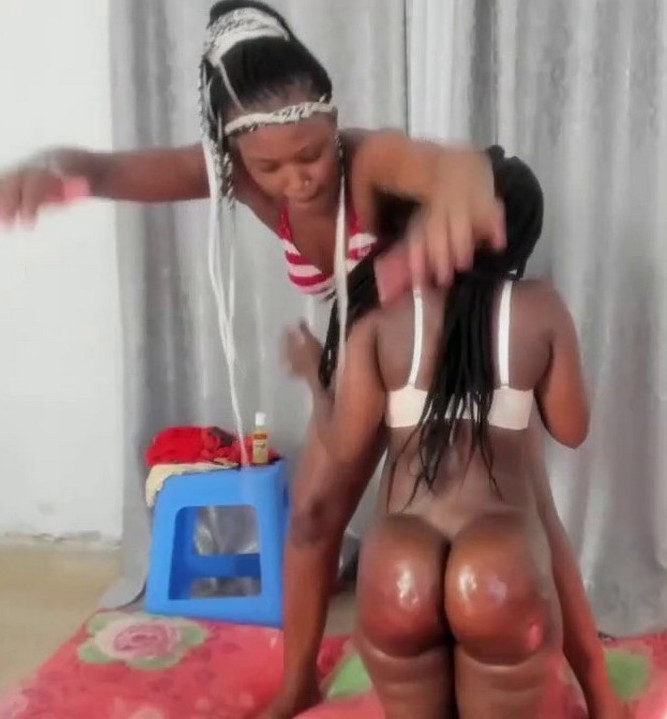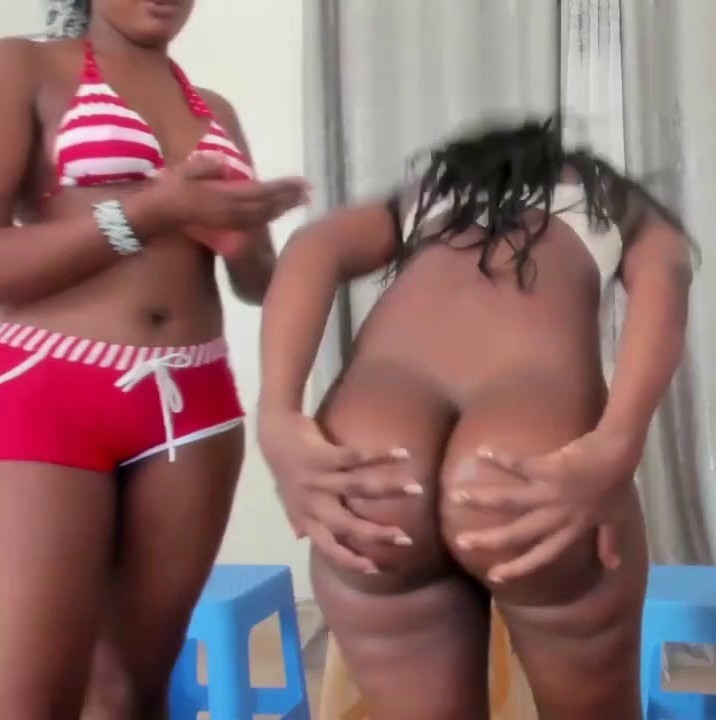 As in the lifestream of the original very long webcam files there are also some intervals and unimportant sequences, I only selected the remarkable spanking scenes and assembled them in a video collection containing nine partial videos of different lengths, with a total playing time of more than 40 minutes. This video collection is available for registered members. I made another partial video which is available for members of
Spankingfreunde.de
in its media library. There is free access to the partial video at Spankingtube. A further impression is given by the attached stills (pics are clipped). The video quality is exceptionally good and the design is novel and worth seeing. All in all I vote for five stars!.

©2022 Michael oldtapir
Links:


Video Collection African Webcam (P)
(9 videos)


Video aus Spankingtube
(video downloaded from Spankingtube)

Links to related articles at oltapir.eu:


Giant African Booties


Big Booty Time
Samples and many forwarding Links


Mapouka
Report abot this sexy dance plus forwarding Links

Be one step ahead! Members of oldtapir will get more information, pictures and videos!