Apr. 2019

Review Ebony Daizy C.


Daizy Cooper (born in Jan. 1998) grew up in Hollywood. So it was a short journey over the hill to get into the adult porn entertainment biz in the spring of 2017. Her motivation? "I like having sex, looking sexy and watching porn". After just 30 days in Porn Valley, she says she has enjoyed "meeting new people who work in the industry and watching new fads and videos". Daizy is a fresh faced starlet and made her debut with barely half a dozen scenes under her belt at Dogfart Network.

Daizy's way very much resembles that of
Ivy Sherwood
or
Cupcake Sinclair
who also started their careers in doing many porn or bdsm videos both hard- or softcore in mixed gender or lesbian constellation. Because of good public relations of the network where Daizy appeared, she reached a very high presence rate at search machines. Not all results may be authorized nor may they be complete. So you should be careful in searching the web and you should protect yourself by a good security software as not to catch a virus or any other spyware. I have assembled some examples in a separate
Linkpage
which were reliable and safe at the time of this publication.

Because of the nearness of porn and spanking it is not surprising that new girls in this scene are also wanted models for spanking productions. Maybe they are even more interesting than models who only do spanking and BDSM videos. Watching their "sinful" and "naughty" actions in sex and porn videos will make every spanker wish to punish them severely for their "bad" and "indecent" behaviour. In reality there are also examples that guys are delivering some slaps on those jiggling buttocks during sex to stimulate themselves and their partners. This is also very common with lesbians. Though Daizy is doing plenty of fucking, dicksucking and more to please herself and her partners I only found short ass slapping in one video and you may watch this arousing scene in the extracted Clip 2 below.

Presently I only know about six spanking videos from different producers featuring Daizy as spankee. Those two from Northernspanking Network seem to be the first ones. "A Summer of Spankings" was shot in 2017 and the other from Cheerleader Spankings may be of the same date. Nearly in all Videos Daizy is put into a very childish role and appearance with short dress and hair bows. Talking about hair she also changes from long straight hair to curly afro style. I am not shure about her original hair style but I remember a remark in one of her biografies that she was from afro-asian ethnie and this explains long straight hair. On first glance of the cheerleader video I thought she was
Nuna Starks
, same uniform and same theme. The difference: Instead of male coach spanking Nuna, it is now Harley Havik spanking Daizy. I neglected this video and only got the preview sample which you will find on the
Linkpage
.

The following pictures show the different looks of Daizy so far. The pic on left side seems to be the most recent one: she looks very cute. The second is a snapshot from cheerleader Daizy. Additionally to her uniform she is wearing glasses. I don't know if she needs them in reality or if it is just for making her more look like a schoolgirl. No matter if she really needs glasses or not she is wearing them in another video "A Spanking for cheating Daizy" too. The next pic is showing her in pin-up pose with long curly hair, and the last picture is from a series of spanking pics with Alex Reynolds at Northernspanking, but there doesn't exist a video in this orange coloured outfit. In the existing video from NSP "A Summer of Spankings" Daizy is wearing a beautiful short pink dress and is handspanked and slippered by Alex Reynolds.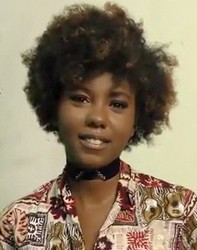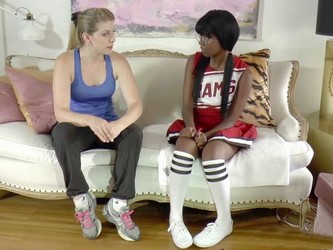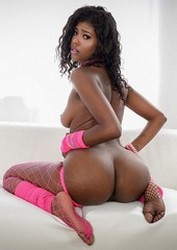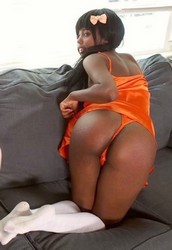 Primarily my site is dedicated to spanking, and porn is actually not my thing, but as in the case of Daizy they are accompanied with each other, I am referring also to some works of Daizy in her start-up porn career. From several promoting videoclips I assembled video Clip 1 and especially from the scenes with black porn model Noemi Bilas you will agree that those naughty butts in the end should be thoroughly spanked. You will find the original version, more interviews with Daizy and links for watching two assorted fulltime porn videos (from external sources) on my
Linkpage Ebony Daizy C.

Attention, don't run videos simultaneously to avoid sound interference!

The spankings which Daizy is receiving in the presently available videos are not so severe, perhaps as newcomer she is not so deeply involved into the action or is afraid that her most precious capital, her amazing and juvenile perfect booty might be marked or damaged by too severe blows. Even Lana Miller, a very experienced spanker and especially experienced with the belt, does not lay it on to her so much and is using a flexible leather paddle. Alex Reynolds is slippering her and Harley Havik finishes with a wooden paddle after the preceding OTK-handspankings. Soewhat different is the lesbian spanking video with Misty Stone. There is plenty of caressing mixted up with spanking and Misty in sexy underwear is also using a leather paddle on Daizy's sexy bare bottom. A very nice video which I especially enjoyed!

More Information (with video samples and links to fulltime vids): Linkpage Daizy Cooper

Be one step ahead! Members of oldtapir will get more information, pictures and videos!

(© pictures and preview clip from free promoting material)